---
Room 9 News
Room 9 have been very busy recently. We had a lecturer, named Frank, from DIT help us learn about creating a weather sensor. The students designed a website and weather sensor with help from Frank and Claragh. We designed and painted a cover for our sensor too. It reads pressure and temperature. We learned more about coding and science. You can check out the website here:
http://eleceng.dit.ie/frank/staudoens/w.php
We are really enjoying our Solas Business classes this year. We are working with mentors from Savills. The students are in groups coming up with business ideas and putting together a presentation. Each member has their own job and presentation to give. They are going to present their ideas in Savills this week with the winning group taking part in the finals in June.
Room 9 really enjoyed doing projects this year. As a reward for their hard work they were allowed to do a project on whatever they wanted. The standard was exceptional with some diverse and interesting topics covered. I have been mostly impressed with their oral language skills when they are presenting their work.
Here in 5th we are delighted with the improvement in the weather. We have taken advantage when we can to get out and do some reading together.
Recommended Posts
June 27, 2022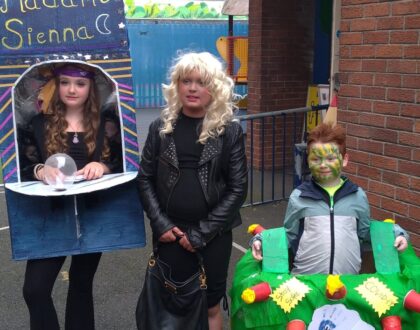 October 22, 2021
June 22, 2021
---
Sorry, there was a problem.
Twitter returned the following error message:
Could not authenticate you.
---