---
Dragons' Den
5th Have had great fun over the last five weeks working with ByrneWallace as part of the Solas Business "Dragons' Den" competition.  Four groups in the class worked with two mentors, who guided them in developing a product and marketing it. The 5th class kids showed excellent team work and creativity during this process. Each week they focused on a different aspect of the product until they finally had a presentation put together. Each student also took on a role in the company they created e.g. Head of Finance, Marketing/Sales Director, Managing Director and PR.
In week 5 the class went down to the offices of ByrneWallace to show case their four product ideas to the Dragons. This was a great experience as we got to see where the mentors worked and experienced life in an office! After a few quick run-throughs they were ready for action.
The Dragons were very impressed with all the presentations and found it difficult to choose a winner. In the end "BIBA Tech" were the chosen winners to represent the school at the finals later in the year. "BIBA Tech" is Bisi, Iris, Ben and Aron. Their product is a GPS system that helps disabled people navigate the city to places that are wheelchair friendly.
5th Class would like to thank ByrneWallace and Solas for this amazing opportunity and look forward to supporting "BIBA Tech" in the finals.
Recommended Posts
June 27, 2022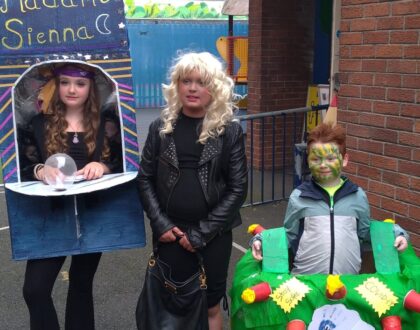 October 22, 2021
June 22, 2021
---
Sorry, there was a problem.
Twitter returned the following error message:
Could not authenticate you.
---