---
Room 9 News
We have had a busy few months in 5th Class. We spent the last few months working on various topics and projects. Our science projects on marine life were very successful and the children produced excellent work, which they presented to other classes.
In ICT we have been working on coding using Code.org and Scratch. Computer Science is important in today's world and the children are equipping themselves with this knowledge.
Tag rugby and dance were the main features of our PE lessons. Shane was excellent at teaching us warm ups and dance moves. Stephen from Solas worked through a 6 week tag rugby programme teaching us the basics of the game. Every lesson was built around team spirit and attributes that make a successful sports person but are also important to real life too (Confidence, teamwork, the power of words, resilience and encouragement).
Music in the Classroom has been a big hit this term. Sinead has been teaching the children about Caribbean music and its history. We even got a chance to practise some limbo!!
Our Christmas Show was a great experience. The children worked on the script and creative process together. We got a good insight into what actors and script writers do.
The panto was great fun, especially when the teachers got forced on stage….it was the usual hi-jinks with Sammy Sausages and Buffy.
Santa came to visit too and the children really enjoyed opening their gifts and playing with their new toys!!
This term has been great fun. Everyone in 5th is looking forward to the New Year and everything it brings with it.
Recommended Posts
June 27, 2022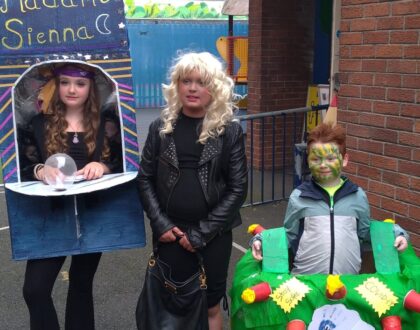 October 22, 2021
June 22, 2021
---
Sorry, there was a problem.
Twitter returned the following error message:
Could not authenticate you.
---