---
Room 8's Xmas Factor
In Fourth Class this year we created our own Xmas factor as our class Christmas play. We had our four judges who had the task of picking the best groups for the Nativity Play.
The children were divided up into four singing groups: The Angels, The Shinning Stars, The Shepards and The Kings. Each group had a song that was rated by our judges (Nick, Cheryl, Rita and Simon).
We had such good fun practicing for our play. I was so proud of the amount of work each and every student put in. There will be more pictures to follow but for now all we have is a few Selfies.
Here's a copy of the script that we worked so hard on.
The Xmas Factor!
Ollie Murs: Good afternoon, and welcome to the Xmas Factor, live from the studios at St. Audoen's Primary School. First up please welcome all of our contestants and judges on to the stage to sing 'Walking in a Winter Wonderland.'
Song: Walking In A Winter Wonderland
Caroline Flack: Ladies and gentlemen, wasn't that wonderful! Now…
Please welcome our judges tonight…..
Miss Cheryl Cole
Miss Rita Ora
Mr Nick Grimshaw
And Mr Simon Cowell…..
Caroline: Well, what a show we have for you tonight. This is the final in the series and by the end of this evening we will have found the stars for the nativity play.
Ollie: Yes indeed, we are looking for people who have that special x factor or should I say xmas factor.
Caroline: They are all auditioning for the main parts in the Christmas play. Each of our judges have been given a group to train – the angels…… the kings…… and the shepherds!
Ollie: First up, its Nick's group. Nick, tell us about your group.
Nick: Well my group is the angels. They have all been superb and I don't think any of them should be leaving tonight. They have a really important job in the Christmas story and were the first to tell Mary she was going to have a baby. None of them deserve to leave tonight.
Caroline: Please welcome the first group of angels tonight! Angels, how are you feeling tonight?
Abbiey: We're good. We've worked really hard to get here.
Ikran: We're bringing the attitude tonight Caroline. *Girl Snap*
Jennifer: I think we'll surprise a few people tonight
Caroline: Great stuff girls. And may I say that you're almost looking as beautiful as me
Angels Group 1: We Wish You a Merry Christmas
Olly: Thank you… judges what did you think?
Nick: Brilliant, really good girls you definitely had the Xmas factor. I hope you go through tonight.
Caroline: Cheryl, what did you think?
Cheryl: Great outfits girls and I love your hair! You did very well. It's very hard being the first ones up.
Ollie: Rita your comments please?
Rita: Yes, I agree with Cheryl you look great and you sang that song brilliantly.
Caroline: And finally Simon, your views on the first group of angels tonight?
Simon: Well…… if I'm being honest it wasn't the best I've heard from you (boos) You were out of tune, and the song choice was wrong. (Boo) And where was the attitude???
Ollie: Well, thank you judges for your comments. Angels how do you feel that went?
Angels: Eh, whatevs Simon. Sure you're over the hill anyway
Caroline: Well if you disagree with Simon and want to vote for this group of angels call in and vote
Ollie: Next up is first group of Kings. This is Rita's group. Rita, tell us about your group.
Rita: These guys are the bomb. They rule. I mean they really rule!! And for you ladies out there one or two of these Kings might be looking for a new Queen.
Caroline: Please welcome the first group of kings. Kings, how are you feeling tonight?
Kings: We're going to try something a little different. We hope you like it.
Kings dance to freak out
Ollie: Well done boys, judges your comments please?
Nick: Speechless. This isn't Britain's Got Talent lads.
Simon: What was that? Get off the stage kings and stop wasting our time!
Ollie: Right, thank you Simon.
Caroline: Strong words there from Simon, well you know the number to call.
Now back to the angels. Please welcome the Shinning Stars. This is Cheryl's group
Cheryl what is this band like?
Cheryl: These are true stars in everyway. Look at them just shinning up there.
Ollie: Shinning Stars how are you feeling.
Millie: We plan to light up this competition.
Chloe: Hopefully you'll see the twinkle in our eyes as we sing.
Shinning Stars sing: All I want For Christmas Is You
Ollie: Fantastic performance there by The Shinning Stars.
Rita: There's something very special about them.
Simon: Stars? I thought they sounded more like dying cats (boo)
Caroline: Now the first of the shepherds group. Simon tell us about your group.
Simon: Yes the shepherds. They followed a star to get here and I hope they can BECOME the star that everyone follows after this.
Olly: Please welcome the first group of shepherds. Shepherds how are you feeling tonight?
Piotr: We've been practising hard.
Mario: This one is for all the girls out there.
Daire: We sing this song to our sheep. This is gonna be easy.
Christopher: Keep the wolf whistles down ladies
Karol: We're the most fly flock in town
Shepherds sing. – Baa Baa Black Sheep
Caroline: Nick, your thoughts.
Nick: You sounded nervous boys.
Ollie: Cheryl?
Cheryl: That was pretty baaaaaaaaaaaaa'd boys. haha
Simon: Not great boys, were you deliberately trying to sing out of tune? It was not in tune at all! (boo) If I'm being honest that was the worst we've heard so far (boo)
Ollie: Thank you judges.
Caroline: Right, thank you to all the contestants tonight. The lines are now open for you to vote. Please call for your favourite act this evening. Was it the angels….. The kings…. the shepherds. Or the shinning stars
Ollie: It's so hard to choose but we do need to find the final three parts for the Christmas play. To end this Christmas special of the xmas factor, we will now invite our contestants and judges to sing one final time altogether.
Final song…..
Last Christmas
Judges:
Cheryl: Robyn
Rita:  Saoirse
Simon: Dino,
Nick: Evan,
Narrators:
Ollie:  Blessing
Caroline: Mark
Angels: Abi, Ikran, Jennifer, We Wish You A Merry Christmas
Kings: Callum, Kuba, Karl, Troy Dance to Le Freak
Sheppard: Piotr, Mario, Daire, Christopher, Karol, Maleek Ba Ba Black Sheep
The Shinning Stars: Chloe, Millie, All I want for Christmas
Recommended Posts
June 27, 2022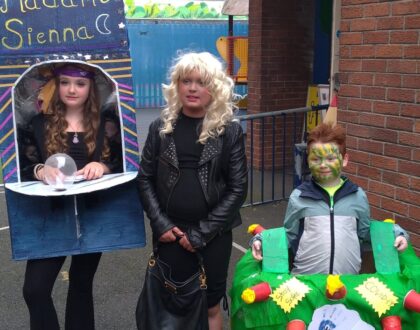 October 22, 2021
June 22, 2021
---
Sorry, there was a problem.
Twitter returned the following error message:
Could not authenticate you.
---