---
September in Senior Infants
We had such great fun getting to know our new classroom and teacher in Senior Infants this September! Miss Monaghan loves her new class and knows they will do great learning this year.
Every morning the children work on their Jolly Phonics and can sing the songs for you. They are learning to spell Tricky Words too! We sing many songs in this class, and Sesame street Number Four song and Grey Squirrel are big hits! The children also learnt two poems Our Classroom Rules and Pretty Leaves. Everyone is doing wonderful writing in their blue writing copies and we make Math intresting by playing math games and making up number rhymes.
We like to work hard in this class, but we also have fun. On Monday and Tuesday we have a music class with Catherine. This year we are very lucky to be attending a music class in Christchurch for 6 weeks. A lot of us had never been into Christchurch before and it is fantastic.
There was great excitement this September as we began Hurling with Peter. Senior Infants are natural born hurlers, and are always asking when they can go hurling again!
On a Thursday we do activity stations. Groups work with Lego, Threading, Stencils, Thereputty, Puzzels and many other  activities. These stations are important for the children to express themselves, problem solve, work on hand eye co-ordination, and to strengthen
their hands.
Friday is Art day and we did lots of nice Autumn art. Next month is Halloween and we can't wait to do some spooky art!
Recommended Posts
June 27, 2022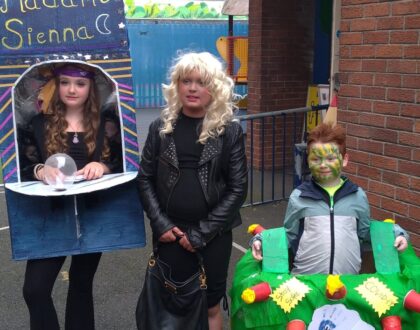 October 22, 2021
June 22, 2021
---
Sorry, there was a problem.
Twitter returned the following error message:
Could not authenticate you.
---