---
Albert Radford RIP
On December 24th 2019, we heard the sad news that our Caretaker and Friend, Albert had passed away after a short illness. Albert leaves behind a life time of memories and happiness in St Audoen's National School. He was our care taker; he cared for the school but most of all he cared for those in the school; colleagues and children.
Albert knew the school inside out, he knew every nook and cranny of the building and the vast history associated with St Audoen's. He would happily tell our many visitors stories and tales involving the school. He had a deep knowledge of our community, it's people and Dublin 8. He was a true Dub and proud of it but nothing made him happier than heading off to Connemara each September for some western sea air and fishing with Mr Monaghan.
Albert knew all our boys and girls by name and usually knew their extended families. He was like an uncle to them, or a big, bold brother – always trying to make them laugh – even if they were in trouble he'd try to lighten the mood outside the office, which usually meant him getting in trouble! You could here the shrieks of joy as Albert would pretend to chase the boys and girls in the playground. And who didn't love his famous handshake – squeezing and shaking hands – the children all pleaded for a handshake when they met him. Albert loved fun, anything to give the boys and girls a laugh, he has been known to dress up as a yeti, a leprechaun and a werewolf… and that wasn't even at Halloween!
Albert had a number of special talents, he could turn his hand to anything. He enjoyed fixing and repairing and often lent a hand to staff and neighbours who found themselves in need. But the most well known talent in St Audoen's was Albert's skill at cooking. Not only cooking gorgeous food but growing his own food and sharing it amongst us. He took ownership of our school garden and grew an abundance of herbs and vegetables. He had a deep knowledge when it came to nature, plants and herbs. Albert was so proud of his allotment, he loved to show off all his herbs and veg. He enjoyed talking about what he was growing and dishes he would make. Anyone visiting the allotment would leave with a pocket load of goodies for dinner. Albert loved food, loved cooking for others and sharing his talent. Many of St Audoen's staff have rhubarb and tomato plants in their gardens, gifted by Albert. It was widely agreed that Albert grew the best tomatoes and potatoes in Dublin.
Albert loved to BBQ and always cooked for the summer fun day, when all the boys and girls enjoyed a burger in school. Cooking 200 burgers is not an easy task and it was often stressful but he loved it, being the chef and watching the children devour the burgers. If they came back for seconds he's always say "no no no there's only 1 each" and then give them the 2nd one on the quiet!
Albert had such a strong sense of loyalty, goodness and friendship. Chats over cups of tea were his favourite times. So many of our school moments are full of Albert. We each have our own special memories, each precious and cherished. Albert will always remain part of the fabric of St Audoen's, his legacy is stitched firmly in place.
He will be missed by teachers, past and present, pupils, past and present and all those who came through our doors.
Albert,
We thought of you with love today
but that is nothing new
We thought about you yesterday
and days before that too,
We think of you in silence and often speak your name
All we have are memories and your picture in a frame
Your memory is our keepsake with which we'll never part
God has you in His keeping we have you in our heart.
Rest in Peace Albert. x
Recommended Posts
June 27, 2022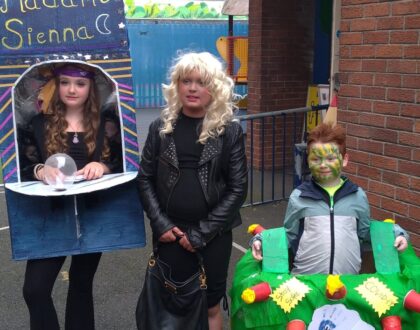 October 22, 2021
June 22, 2021
---
Sorry, there was a problem.
Twitter returned the following error message:
Could not authenticate you.
---