---
St Catherine's Football Blitz
St Audoens had a very successful week of football at the St Catherine's annual blitz.
First up, saw the girls of 5th and 6th class take part in the competition on Monday. The 6th class girls gave a good account of themselves and were competitive in their group games but came up short of qualifying for the semi-finals. The 5th class girls showed excellent determination, skill, and organisation to win their group and semi-final. The final itself was a tough close encounter which went down to penalties. There was little to separate the teams but a crucial first save by Katelyn O'Connoll Magee; clinical finishing from the other four girls, left it in the capable hands of Lisa Bradley who coolly and calmly put it away to ensure victory.
Well done also to Lauren O'Connell who won player of the tournament and caught the attention of many with her ability and skill at the bltiz.
6th Class Team: Georgia McAllister, Robyn Molloy, Abbie Buckley, Sophie Salinger, Skye Murtagh, Anisa Mohamed.
5th Class Team: Katelyn O'Connoll Magee, Lauren O 'Connell, Niamh Kennedy, Josephine Adedayo, Lisa Bradley, Chloe Long.
After the impressive performance of the girls it was up to the 5th class boys to make their mark on Friday. It was another excellent display of football from the boys who played with honesty, guile, skill and a great attitude. They managed to make it out of " The Group of Death" containing 5 teams recording: three wins, a draw and a loss. The semi final was a goal fest which saw St Audoens win 5 0, although a special mention to the indomitable presence of goalkeeper Rhys Walsh who kept 4 out of 7 clean sheets during the competition and was unplayable in the semi final.
The final was a tense affair against The Model. We had drawn 3 3 with them in our group, coming back from 3 1 down in the last minutes of the game thanks to a Daniel McCann strike.However the boys pressed from the start of the final; got an early goal and controlled the remainder of the game to claim victory.
Overall the students who played in the blitz were excellent ambassadors for St Audoens School. Their fair play and sportsmanship was on par with their football ability.
Well done to Ben Norton who won player of the tournament and tormented every defence with his goals, mazy runs and excellent link up play.
5th Class Boys: Rhys Walsh, Josh Conlon, Ben Hughes, Sean Roche, Ben Norton, Ben Hughes, Lee Dunne.
Recommended Posts
June 27, 2022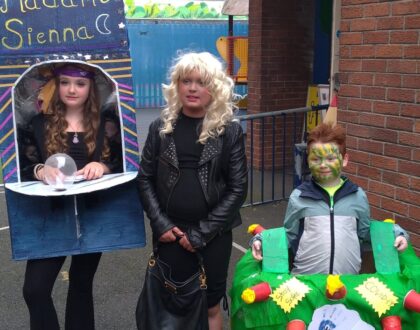 October 22, 2021
June 22, 2021
---
Sorry, there was a problem.
Twitter returned the following error message:
Could not authenticate you.
---