---
St Catherine's Blitz
After the success of last year, St Audoen's took part in the St Catherine's Soccer Blitz looking to put in as good a performance. This year we entered four teams instead of two, including two teams from 5th and two teams from 6th. Both the boys and girls have been training all year and were looking forward to testing their skills at the competition.
First up on Tuesday were the 5th class boys including some 4th class students, who acquitted themselves very well in the competition. Although it was their first time at St Catherine's, they showed great calmness, organisation and team spirit throughout. The boys qualified from their group to make it to the semi- final. This was a tough affair and although they battled in earnest and never gave up, they just didn't have enough to get through to the Final.
Well done to Elvin, Owen, Luke, Kevish, Mark, Christopher and Blessing
Next up came the 6th class boys, who were looking to replicate their win in the competition last year. They got the same results in the group stage as they did last year, 2 wins, a draw and one loss; however, such was the competitiveness this year that those results were not enough to get out of the group. St Francis Street pipped us by a point to get second place and qualify for the finals. Even though it was disappointing we were happy that it was St Francis Street who got through, as we have worked together this year to improve each others skills on the football pitch.
Well done to Ben H, Ben N, Nathan, Patrick, Lee, Rhys and Daniel
Friday was the girls competition and it was even more exhilarating than Tuesday. Both 5th and 6th class showed excellent skill and determination throughout. The 5th class girls played some beautiful football. They were organised, tough and demonstrated quality passing and finishing. They came through their group easily and made quick work of their opponents in the Semi-Final winning by 4 goals. The final itself was a terse affair against a strong Oblates side. St Audoen's had more chances in the final but tired legs couldn't connect to get the ball across the line. The dreaded penalty shootout was on the cards. Missing our first two penalties we looked dead and buried; however, there was a heroine in our mist! Bisi saved the next two penalties while we scored to force sudden death. Neither Mr Finan nor Mr Davern had any nails left to bite at this stage! Unfortunately we lost, but we could take great spirit in an excellent performance
Well done to Bisi, Nicole, Megi, Iris, Louise and Emma
The 6th class girls emulated their performances from last year too. They comfortably qualified from the group stages with 2 wins and a draw. In the semi-final they had tougher opposition against Bluebell but had enough in their locker to snatch a 1 0 victory. Meeting the girls in the final was St James's, who had a very strong team and the two best teams squared off in an intriguing encounter. This game was a battle and the free flowing football that both teams played up to this game was replaced with a tough tackling affair. Unfortunately a mix up with a throw in was to cost us as we conceded late on in the game losing only 1 0.
Well done to Anisa, Sophie, Skye, Katelyn, Niamh, Lauren and Chloe
Overall the teams represented their school proudly at the competition and showed great sportsmanship. No matter the circumstances we fought every game to the end, never giving up and learned a great deal from this experience.
"Ever tried. Ever failed. No matter. Try again. Fail again. Fail better."
Training will continue every Tuesday and Wednesday as we look to improve our skills!
Recommended Posts
June 27, 2022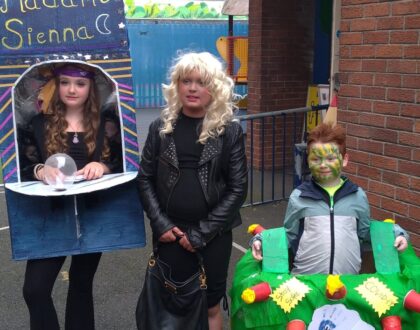 October 22, 2021
June 22, 2021
---
Sorry, there was a problem.
Twitter returned the following error message:
Could not authenticate you.
---