---
St. Audoen's Camogie vs Neilstown May 2014
Our girls camogie campaign came to an agonising end on Monday in Phoenix Park. We were beaten by a single goal by a well organised team from Neilstown. However the girls never gave up and battled till the very end of the game. On the day we were missing one of our star performers Nadia who was a great loss to the team but despite the set back the girls showed great character to push the opposition all the way to the final whistle. On the day there were some outstanding performances which included Katelyn in goals who made a vital save late on to keep us in the game. In defence Josephine, Najat, Nicoletti, Denise, Anisa and Robyn worked tirelessly to keep the ball out. In midfield Ciara battled bravely despite getting a horrible injury to her thigh during the first half. In the forwards Georgia, Abbie, Sophie, Chloe, Lisa and Alex tried very hard to get a score only to be stopped by the excellent opposing teams defence. However in each of our games there is always one stand out performer and in this game it was a girl who was everywhere on the field, she was back defending and up attacking constantly, she was in crowds of players getting hit and still played on. That girl is Lauren O' Connell. Well done girls on an excellent year, this was the first camogie team in the school for over 10 years and for a team still learning the game they represented the school with great pride.
Despite losing, the girls managed to muster up a few poses below in our new jerseys.
Recommended Posts
June 27, 2022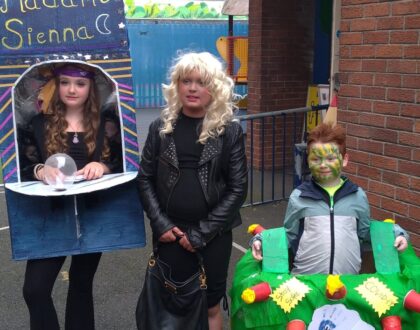 October 22, 2021
June 22, 2021
---
Sorry, there was a problem.
Twitter returned the following error message:
Could not authenticate you.
---