---
Room 8: Our Class Proclamation&1916 Walking Tour
As part of the celebrations for the 1916 Rising our class went on a walking tour of some of the key sights. The Irish actor Jack Walsh gave the tour. Jack will be playing the part of Thomas Clarke in the TG4 show called Wrecking The Rising in April. After the tour he told me that it was of of his favourite tours because of how well the children of Fourth Class behaved and because of how interested they were throughout the tour.
During the Rising this was a sweet shop. As the fighting was taking place people raided the shop and got away with as much sweets as their arms could carry.
We read out the Irish Proclamation outside the G.P.O. just as our leaders did 100 years ago.
We touched the bullet holes in the pillars outside of the G.P.O. where most of the fighting took place.
Here was the side-door of the G.P.O. that the leaders escaped from before they were caught and executed.
 When we returned we took our time and wrote a proclamation as a class. We went into groups and decided what would be the most important issues for all of us at the moment. We highlighted the importance of equality, of looking out for homeless people, of solving the issue of drugs in the country and ensuring that everyone has the right to education and healthcare.
All of these great adventures were to help us commemorate what happened in Dublin 100 years ago.
Recommended Posts
June 27, 2022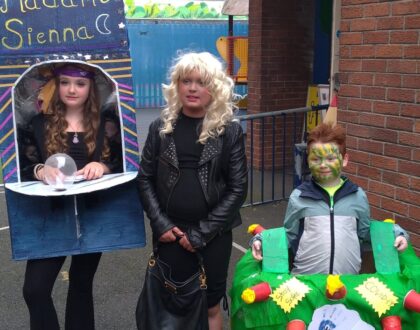 October 22, 2021
June 22, 2021
---
Sorry, there was a problem.
Twitter returned the following error message:
Could not authenticate you.
---