---
Musician Greg Clifford visits Room 8
We were delighted to welcome Irish musician Greg Clifford to St Audoen's and to Room 8, he kindly dropped by to teach us a music lesson. Greg is a renowned musician and has played in the band Elevator as well as traditional Irish music groups around Europe. He also toured as part of Samantha Mumba's band in recent times.
Greg began the lesson with some musical theory before teaching the children to play various instruments. Here Callum is playing the ukulele. Peter also got a chance to play the instrument.
The children were exposed to a wide range of instruments with the plan to create a mini orchestra by the end of the lesson.
Troy and Mario look on as Greg shows them how to play the glockenspiel.
Robyn and Chloe played the tin whistles like professionals!
Greg also incorporated the Tibetan Bells which we use during our Mindfulness and Meditation Time in St Audoen's.
Greg taught the children a four part harmony on the piano, which you can hear by clicking on the link below:
It was amazing to see the children take to the instruments so easily. Greg's lesson was perfectly balanced and the children had a fantastic time with him, keeping him a little longer to sign autographs for them! He has since been in touch to say what an amazing experience it was for him too and how impressed he was with the children and the school.
The song that we learned together was Greg's 'One For Luck', which you can hear on his soundcloud page below. Greg is in the process of finishing off his first solo album and we wish him the very best! Thanks Greg for taking the time out to come to bring the children such joy.
Recommended Posts
June 27, 2022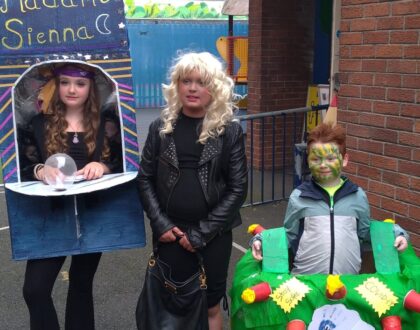 October 22, 2021
June 22, 2021
---
Sorry, there was a problem.
Twitter returned the following error message:
Could not authenticate you.
---