---
Glanmore Foods: Factory Visit 2015
On Wednesday the 4th of February Room 8 & 9 were invited to visit and tour the Glanmore Foods Factory where our lunches are made every day!
Glanmore Foods are a family owned Irish business based in Blanchardstown Dublin. They operate from a custom built, state of the art food manufacturing plant, including an onsite bakery.
At St Audoen's NS we place huge emphasis on Healthy Eating and on the importance of healthy food to develop healthy minds and bodies.
A very simple approach to healthy eating is to use the food pyramid. Aim to eat more of the foods at the bottom of the food pyramid, like cereals and breads and less of the foods at the top. Foods are grouped together depending on their nutrient make-up. For example, milk, cheese and yogurt are rich in calcium and so form one group. To be healthy you should aim to eat some foods from each of the four groups every day. A good rule of thumb is to have one food from each of the four main groups at lunch.
We had a great time and learned so much about our lunches and how they are made….it's not as simple as it looks!
Recommended Posts
June 27, 2022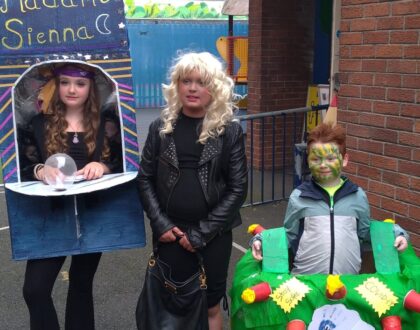 October 22, 2021
June 22, 2021
---
Sorry, there was a problem.
Twitter returned the following error message:
Could not authenticate you.
---