---
Girls' Inchicore League Football Champions
St Audoen's were back in Richmond Park this season after experiencing their very first final last year. The hard work the girls put into training this year paid dividends. After a very successful league campaign we still had it all to do in the final against Gaelscoil Inse Chor. The occasion itself was worth waiting for and the girls from 4th,5th and 6th class did not disappoint. Team spirit and honesty have been the backbone to this team for the last two years and this was again on display in the final. Gaelscoil Inse Chor for their part were worthy opposition and played valiantly.
The game got off to a frenetic start and the St Audoen's girls pressed and closed down as a team. This afforded them good possession and attacking play from the flanks. Robyn Walsh and Megi Baci marshaled the midfield, while Iris Baci and Ali Carroll were resolute in defence. The link up play between Bisi Atilade, Kayley Phelan, Nicole Jones and Savannah Keogh was a sight to behold and caused lots of problems for the opposition.
As the game settled down St Audoen's had the majority of the clear cut chances. Savannah made a darting run with the ball at her feet and let fly from 20 yards. She followed up on her saved shot and managed to squeeze her second effort between the keepers legs for a 1-0 lead. St Audoen's were under the cosh for the rest of the half as Gaelscoil tried to find an answer and make a game of it. However with the safe hands of Agi Viragh in goals and a back four of Emma Whelan, Louise Reid, Iris Baci and Ali Carroll, this was always going to be a tough task for Gaelscoil. The girls put on a masterclass in defending and St Audoen's got to half time with their noses in front.
At half time, the girls' were focused and ready to ensure they didn't leave the game behind them like last year. They dominated possession and started to gain an upper hand on the opposition. Beautiful dribbling from Savannah, after Brooke Long forced an error, created a chance for Nicole Jones. They say big players turn up for the big games and without a doubt this game was made for Nicole Jones. When the ball landing at her feet she calmly controlled it and blasted it past the keeper. Nicole followed this up with another sumptuous strike moments later. Gaelscoil scored a consolation with minutes to go and the game finished 3 1 to St Audoen's.
It has been a great privilege to train the girls this year and both myself and Mr Finan are delighted for them. They listened and took advice on board but more importantly they played for each other and as a team. Well done girls.
Team: Agi Viragh, Ali C, Ali M, Louise Reid, Abi McTiernan, Bisi Atilade, Iris Baci, Megi Baci, Nicole Jones, Saoirse Jones, Jennifer Adedayo, Savannah Keogh, Brooke Long, Kayley Phelan and Robyn Walsh
Big thanks to St Patrick's Athletic and the sponsors Carambola.
A great day in Richmond Park today with the finals of the Inchicore Schools Cup being played. St Audeons and Gaelscoil Inse Chór winning out pic.twitter.com/Dmnsub02XR

— St Patrick's Ath (@stpatsfc) June 13, 2017
Recommended Posts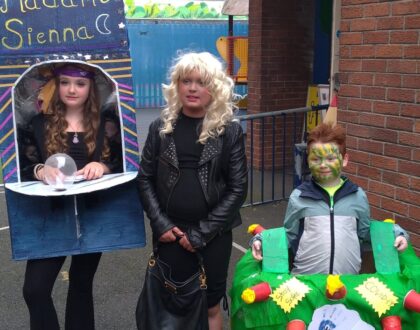 October 22, 2021
June 22, 2021
March 6, 2020
---
Sorry, there was a problem.
Twitter returned the following error message:
Could not authenticate you.
---