---
Children of 2016 remember the Children of 1916
Today in St. Catherine's Church, 6th Class and some lucky 5th Class pupils joined with other local schools to commemorate the 40 children who lost their lives during and as a result of the 1916 Rebellion.

During the commemoration, we enjoyed music, songs and stories that reminded us of the historical importance of our area and the lives lost on the streets of Dublin during Easter Week, 1916.
RTÉ broadcaster, Joe Duffy, and local historian, Liz Gillis, were amongst the special guests at the commemorative event organised by the Dublin 8 HSCL team.
From his book, Children of the Rising, Mr. Duffy shared with us the untold stories of the long-forgotten children of the Rising 1916. He told us about their families, their daily lives between the two canals and what happened to them during the Rebellion 100 years ago.
Josh, Chloe, Rhys, Sophie and Sean presented the names of five of the 40 children remembered during the closing song, 'Dublin In the Rare Ould Times'.
Mr. Duffy spoke about his love of local history, what sparked his interest in the children of 1916 and explained how he carried out the research for his book. Ms. Gillis, a past pupil of Presentation Secondary School Warrenmount, spoke about her current research and work on RTÉ's website, http://1916.rte.ie.
The event was part of the 1916 Project by Dublin 8 Schools. More exciting 1916 events to follow!
Recommended Posts
June 27, 2022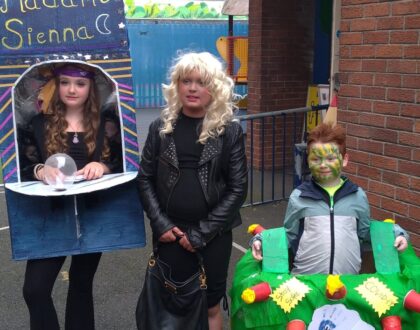 October 22, 2021
June 22, 2021
---
Sorry, there was a problem.
Twitter returned the following error message:
Could not authenticate you.
---