---
Cheerios Childline Fundraiser
The children in 6th class held a fundraiser for Childline on Wednesday, 7th of October.
The children took charge of the Breakfast Club (with the help of Steve and Megan) and made sure all the younger children in the school started their day with full bellies!
They also decided to prepare a hot breakfast for all the school staff to enjoy at breaktime. From early morning the delicious smell of sausages, rashers and pudding filled the school corridors! Ms. Meagher had to keep patrolling the corridors to make sure no teacher got overcome by the scent and tried to sneak into the kitchen to get the first juicy sausages!
When the bell finally sounded for small break there was a stampede for the staffroom. The feast was served expertly by some of the children and everyone was happy to give a donation for such a good cause. The only downside was when the bell rang at the end of break,everyone was so full, they could barely get themselves up out of the couches and chairs!
The morning was a fantastic success and the total amount raised was €400 !!!!!!!
Recommended Posts
June 27, 2022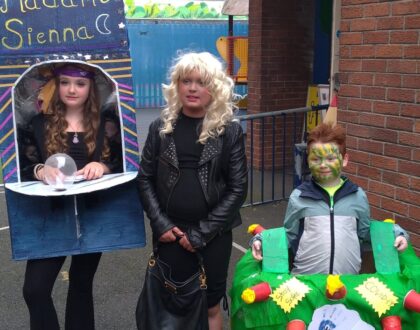 October 22, 2021
June 22, 2021
---
Sorry, there was a problem.
Twitter returned the following error message:
Could not authenticate you.
---