---
Room 8 Visit the Tivoli Car Park Street Art
We are looking at Shape and Space in maths so we decided to have a look at how Street Artists use shape and space to influence their art.
This is the Irish Artist ADW who focuses on stencils when creating his art.
This piece is by James Early who is another Irish artist. He uses a lot of different shapes and colours to create animals from the Irish wilderness.
We also looked at how colours could compliment each other, or contrast against each other. This allows the artist to have certain things in the painting STAND OUT, or melt into the background.
We were very lucky to meet two of the artists there. The children were able to question them and we learned a lot. The most important lesson was to practice a lot and never give up.
Here the children are choosing their favourite piece from the day.
Recommended Posts
June 27, 2022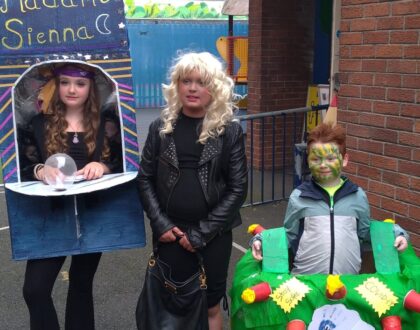 October 22, 2021
June 22, 2021
---
Sorry, there was a problem.
Twitter returned the following error message:
Could not authenticate you.
---